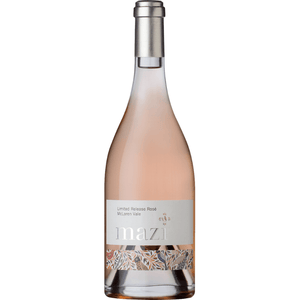 AT FIRST SIP-Cardamom soaked peach, satsuma, honeysuckle and cherry plums. More spice interlaced with red berries on the palate, tremendously dry with loads of texture and a little tannin for good measure. AFTER A FEW-Chilli watermelon margarita. Olé
AT FIRST SIP-Cardamom soaked peach, satsuma, honeysuckle and cherry plums. More spice interlaced with red berries on the palate, tremendously dry with loads of texture and a little tannin for good measure. AFTER A FEW-Chilli watermelon margarita. Olé
About This Wine
Mazi's 2022 Limited Release Rosé is a blend of Mourvèdre and Grenache, handpicked in the heart of McLaren Vale. 
Winemaking was geared towards harnessing the spicy/savoury characters of the Mourvèdre grape, albeit delicately. Gentle, wholebunch extraction took place with minimal skin contact (hence the pale hue). Fermentation was kept cool in stainless steel tanks, with a tiny proportion of juice drained off halfway through. This proportion was siphoned off to a new French oak cask where these spicy/savoury characters where further accentuated. 
The fresh and more fruit driven proportion in stainless steel tank meanwhile, was fermented completely dry before also spending some time in French oak casks (5 months), imparting subtle tannin and texture. All of this build a very complex and serious rosé.
Under Australian law, you must be over 18 years to purchase alcohol. By entering the Wine Envy website, you acknowledge that you are over 18 years.
Once your payment has been approved, we will book your delivery in through Sendle via either Couriers Please or FastWay / Aramex, for next available pickup. Please allow 4-5 days for most metro areas and up to 10 days for more remote places, (although delivery may occur sooner than quoted). Please note that wine will only be delivered to persons over 18 years of age. You will receive an email notification once your order has been dispatched.
Mazi means 'Together'. The duo behind this 100% Rosé producer winemakers Toby Porter and Alex Katsaros.
Toby spent over 15 years at  d'Arenberg and Alex has spent more than a decade working with alternative varieties both in Australia and abroad. In 2016 their obsession with Rosé became tangible with the release of their first Rosé under the Mazi label.
The grapes are handpicked, crushed, and immediately pressed to extract the optimum level of flavour and tannin. The wines are provincial in colour and style, derived from a minimal period of juice on skins prior to pressing. 
The cornerstone of Mazi is their incredible value single vineyard Grenache Rosé from Blewitt Springs. The pinnacle of production at Mazi is the extremely limited and aspirational barrel fermented hand-picked Rosé made from Mourvèdre and Grenache. 2021 also sees the debut of some very exciting wines, a Mataro Cinsault Grenache Rosé and what is believed to be Australia's first Mavrodaphne Rosé produced from just 3 rows of vines. 
Also Something Serious
Get attached, get connected, keep and share me with the best of company.
Newly Added
New and Exciting Drops