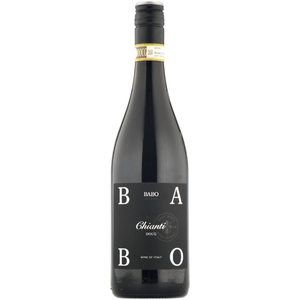 AT FIRST SIP-Brightness all around, tart red cherry, raspberry, wild thyme and a gentle waft of sassafras. Firm yet supple tannins coat the palate with dark berries whilst maintaining a lightness throughout. AFTER A FEW-Winemaker Justin Bubb describes this as 'Beaujolais from Italy'
$26.00
This item is currently sold out.
 AT FIRST SIP-Brightness all around, tart red cherry, raspberry, wild thyme and a gentle waft of sassafras. Firm yet supple tannins coat the palate with dark berries whilst maintaining a lightness throughout. AFTER A FEW-Winemaker Justin Bubb describes this as 'Beaujolais from Italy'
About This Wine
Australian Justin Bubb (who's wife is none other than Anna Pooley) and Luke Saturno were best mates at school and decided to bring great value, delicious Italian wine back to Australia so people could fall in love with it like he had. In 2009 after nearly a decade working for Castello Di Gabbiano, Babo was born and we are stoked we have such tasty, characterful Sangiovese on Australian shores. 
Under Australian law, you must be over 18 years to purchase alcohol. By entering the Wine Envy website, you acknowledge that you are over 18 years.
Once your payment has been approved, we will book your delivery in through Sendle via either Couriers Please or FastWay / Aramex, for next available pickup. Please allow 4-5 days for most metro areas and up to 10 days for more remote places, (although delivery may occur sooner than quoted). Please note that wine will only be delivered to persons over 18 years of age. You will receive an email notification once your order has been dispatched.
Also Something Casual
A bit of fun, some satisfaction and definite thirst quenching.
Newly Added
New and Exciting Drops