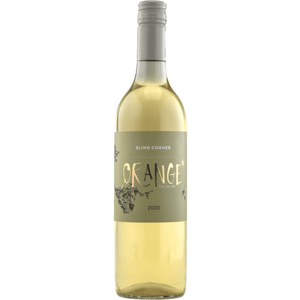 AT FIRST SIP-Kumquat, mandarin and peach fuzz. Salted orange rind tang on the palate, super happy acidity livens up this tasty little number. AFTER A FEW-'coloured wine that tastes like rainbows and textured like sun'-Blind Corner
$24.00
This item is currently sold out.
 AT FIRST SIP-Kumquat, mandarin and peach fuzz. Salted orange rind tang on the palate, super happy acidity livens up this tasty little number. AFTER A FEW-'coloured wine that tastes like rainbows and textured like sun'-Blind Corner
About This Wine
Seriously a bit of everything in this tangy little Skin Contact wine; Pinot Gris, Sauvignon Blanc, Semillon & Chenin Blanc. These white grapes all spend time on skins to extract tannin and extra flavours before the most minuscule dashes of Cabernet Sauvignon is added for the orange hue appeal. 
Blind Corner was born out of the love for wine and hospitality and the simple pleasure of being able to frolic around in the dirt, eat fruit directly off trees and an urge to express place with honesty.
Under Australian law, you must be over 18 years to purchase alcohol. By entering the Wine Envy website, you acknowledge that you are over 18 years.
Once your payment has been approved, we will book your delivery in through Sendle via either Couriers Please or FastWay / Aramex, for next available pickup. Please allow 4-5 days for most metro areas and up to 10 days for more remote places, (although delivery may occur sooner than quoted). Please note that wine will only be delivered to persons over 18 years of age. You will receive an email notification once your order has been dispatched.
The smallest wine region in Australia yet responsible for a huge proportion of the country's premium wines. World class Chardonnay and Cabernet Sauvignon are found throughout the region as well as some fantastic new curios.
Also Something Casual
A bit of fun, some satisfaction and definite thirst quenching.
Newly Added
New and Exciting Drops