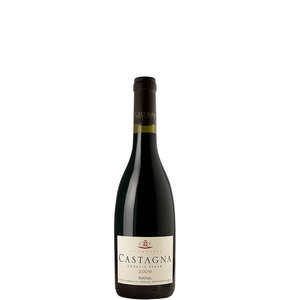 Grab the 3/4 bottle of this phenomenal Syrah.
$64.00
This item is currently sold out.
Grab the 3/4 bottle of this phenomenal Syrah.
See the full bottle, 2016 vintage here
About This Wine
"Before wine can be great, first it must be true"-Julian Castagna.
Castagna wines from Beechworth, in the Victorian foothills of the Australian Alps are certainly an honest expression of terroir. 

Since inception in 1997, Julian has insisted on the rigours, expensive but often highly rewarding task of running a vineyard with biodynamic principals. Castagna has become a benchmark in organic/biodynamic viticulture  as well exceptionally showcasing the  Beechworth wine region.

Beechworth is sits around 500m above sea level in northeast Victoria. In the foothills of the Australian Alps, with largely granitic soil, this region is the home of some of Australia's most coveted wines.
Under Australian law, you must be over 18 years to purchase alcohol. By entering the Wine Envy website, you acknowledge that you are over 18 years.
Once your payment has been approved, we will book your delivery in through Sendle via either Couriers Please or FastWay / Aramex, for next available pickup. Please allow 4-5 days for most metro areas and up to 10 days for more remote places, (although delivery may occur sooner than quoted). Please note that wine will only be delivered to persons over 18 years of age. You will receive an email notification once your order has been dispatched.
Julian Castagna planted his Beechworth vineyard at a time when most Australian wineries were being seduced by Robert Parker's gushing praise of thick, high-octane Shiraz. But that was not his style. Instead, he created wines of finesse, elegance and tension. Julian is a pioneer and his influence on the wine industry cannot be overstated. From the beginning, he aspired to focus on quality above all else.


Embracing his Italian roots, Julian drew inspiration from the great wines of the old world, creating wines that pair well with food- and thrive in our warmer climate. From the high altitude foothills of the Australian Alps, just outside of Beechworth, he championed the biodynamic principles set down by Rudolf Steiner.

The vineyards sit on decomposed granitic-loam over clay. At 500 metres above sea level, the cool evenings help to balance the daytime heat, allowing for slow, even ripening that creates consistency in the glass. With an increasing number of styles and varieties, Julian has remained steadfast so that his wines, their style and their ability to excite endures.
Embracing biodynamics from early on, Julian worked closely with biodynamic author Nicholas Joly in learning to understand micro-bacterial activity and living soils. No chemicals are used and companion crops are planted so that the entire vineyard works as a thriving ecosystem. The abundance of wildlife, the buzz of insects and bursts of colour are a testament to the ideals of treading lightly and working with nature.
Also Something Serious
Get attached, get connected, keep and share me with the best of company.
Newly Added
New and Exciting Drops