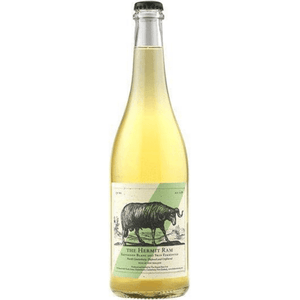 The Hermit Ram Skin Contact Sauvignon Blanc 2020
AT FIRST SIP-Pear pulp, jalapeno, dill and salty salty pickles. Greengage plums, fresh guava and green pineapple. Absolutely saline edged lime on the palate with a fleshy tropical pulp vibe. AFTER A FEW-Spicy margs
$32.00
This item is currently sold out.
AT FIRST SIP-Pear pulp, jalapeno, dill and salty salty pickles. Greengage plums, fresh guava and green pineapple. Absolutely saline edged lime on the palate with a fleshy tropical pulp vibe. AFTER A FEW-Spicy margs
About This Wine
This is the unbeaten path of Sauvignon Blanc, be prepared for a new guise of the infamous grape. Sourced from two gravelly, organic grown vineyards in emerging gem of a region; North Canterbury New Zealand.  
Using natice yeast for fermentation and macerated on skins for 6 weeks before pressing and 8 months aging in tank and Tinajas. Unfiltered, unfined and bottled with only a dash of sulphur. 
Hermit Ram is the bottled ethos of winemaker Theo Cole. Sometimes Rams get away from the heard and start to meander across New Zealand's incredible landscape. Cole found an etching depicting one of these 'hermit' rams that appeared 'defiant, a little sauvage, had an old world charm and was very New Zealand'. Which sums up Coles wines perfectly. 

Under Australian law, you must be over 18 years to purchase alcohol. By entering the Wine Envy website, you acknowledge that you are over 18 years.
Once your payment has been approved, we will book your delivery in through Sendle via either Couriers Please or FastWay / Aramex, for next available pickup. Please allow 4-5 days for most metro areas and up to 10 days for more remote places, (although delivery may occur sooner than quoted). Please note that wine will only be delivered to persons over 18 years of age. You will receive an email notification once your order has been dispatched.
Also An Adventure
Get a bit of strange, a little thrill, a pleasant surprise and some guaranteed satisfaction.
Newly Added
New and Exciting Drops