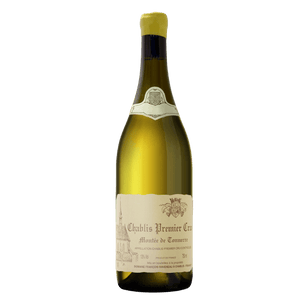 Domaine Francois Raveneau Chablis 1er Cru Montee de Tonnerre 2009
Domaine Francois Raveneau Chablis 1er Cru Montee de Tonnerre 2009
Domaine Francois Raveneau Chablis 1er Cru Montee de Tonnerre 2009
Domaine Raveneau is today one of the most sought-after names of the Chablis appellation. The vineyard covers 7.5 hectares, divided into five premier crus and three grands crus. Jean-Marie and Bernard Raveneau, the current owners, maintain the desire for perfection that has typified the maison since its origins: for example, they prefer to harvest early to ensure a good level of natural acidity, even to chaptalise rather than picking an over-matured fruit. In three generations, ownership has risen to a legendary rank: its worldwide reputation means that the wines are practically unobtainable, especially since the domaine no longer accepts new customers, all its harvest being reserved in advance. The fine wines are consistently harmonious, with superb minerality thanks to a honeyed touch due to élevage in wood. These wines are popular worldwide.

Chablis Premier Cru Montée de Tonnerre is produced from a terroir which could be classified as a Grand Cru due to the high quality of its terroir. Straightaway its nose brings to mind the mineral quality of this terroir, with its wonderful oyster shell, limestone and flinty notes but there are citrus notes present too. On the palate, this is a very lively wine with sapidity and a sublime substance. An exceptional Chablis which will reveal all its complex character after about ten or so years.
Please Note This Product is "Rare & Collectable" and as such no further discounts apply.
Under Australian law, you must be over 18 years to purchase alcohol. By entering the Wine Envy website, you acknowledge that you are over 18 years.
Once your payment has been approved, we will book your delivery in through Sendle via either Couriers Please or FastWay / Aramex, for next available pickup. Please allow 4-5 days for most metro areas and up to 10 days for more remote places, (although delivery may occur sooner than quoted). Please note that wine will only be delivered to persons over 18 years of age. You will receive an email notification once your order has been dispatched.
Also Something Classic
A timeless classic is a wine that is dependable, reliable and familiar. It always hits the spot, no surprises here!
Newly Added
New and Exciting Drops