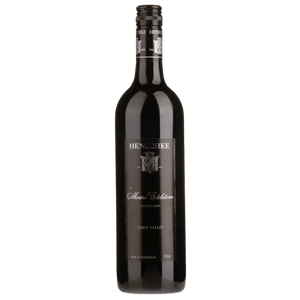 Henschke Mount Edelstone Shiraz 2005
$255.00
This item is currently sold out.
Henschke Mount Edelstone Shiraz 2005
The beautiful and historic name Mount Edelstone is a translation from the German Edelstein meaning 'gemstone', a reference to the small yellow opals once found in the area. The Mount Edelstone Vineyard was planted in 1912 by Ronald Angas, a descendant of George Fife Angas who founded The South Australian Company and played a significant role in the formation and establishment of South Australia. Unusual for its time, the vineyard was planted solely to shiraz. The ancient 500-million-year-old geology in the vineyard has given rise to soils that are deep red-brown clay-loam to clay, resulting in low yields from the dry-grown, ungrafted centenarian vines.
First bottled as a single-vineyard wine in 1952 by fourth-generation Cyril Henschke. By the time Cyril purchased the vineyard from Colin Angas in 1974, Mount Edelstone was already well entrenched as one of Australia's greatest shiraz wines. Crafted by the Henschke family for over 65 years now, Mount Edelstone is arguably the longest consecutively-produced, single-vineyard wine in Australia.
Please note this wine is "Rare & Collectable" and as such no further discounts apply.
Under Australian law, you must be over 18 years to purchase alcohol. By entering the Wine Envy website, you acknowledge that you are over 18 years.
Once your payment has been approved, we will book your delivery in through Sendle via either Couriers Please or FastWay / Aramex, for next available pickup. Please allow 4-5 days for most metro areas and up to 10 days for more remote places, (although delivery may occur sooner than quoted). Please note that wine will only be delivered to persons over 18 years of age. You will receive an email notification once your order has been dispatched.
Newly Added
New and Exciting Drops