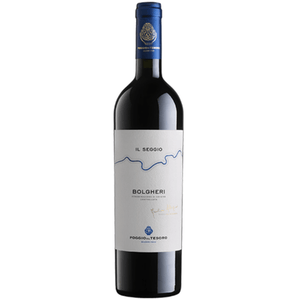 Poggio Al Tesoro Il Seggio Bolgheri DOC 2019
About This Wine
In a desire to look beyond the confines of its own territory, Valpolicella – Veneto region, Allegrini set itself a challenge in one of Italy's most prestigious wine-producing areas: Tuscany. In 2001, Marilisa, with her late brother, Walter, purchased land in Bolgheri on which they founded the new winery, Poggio al Tesoro.
The viticulture at Poggio al Tesoro aims to make the vine the focus of all agricultural practices, thereby focusing on the health of the vines and their ability to build natural immunity to disease, rather than focusing exclusively on ways to "manage" disease.
Under Australian law, you must be over 18 years to purchase alcohol. By entering the Wine Envy website, you acknowledge that you are over 18 years.
Once your payment has been approved, we will book your delivery in through Sendle via either Couriers Please or FastWay / Aramex, for next available pickup. Please allow 4-5 days for most metro areas and up to 10 days for more remote places, (although delivery may occur sooner than quoted). Please note that wine will only be delivered to persons over 18 years of age. You will receive an email notification once your order has been dispatched.
When the famed Allegrini family of Veneto set their sights on the highly regarded terroir of Bolgheri in 2001, Poggio al Tesoro was born.


Their Bolgheri estate contains unique qualities that form an exceptional terroir. The winters are mild and summers last through until October. Constant breezes cool the air during the hotter months and promote the health of the grapes, while the long, sunny days influence the structure of the wines. The light here contributes to the uniqueness of this terroir: it is strong and sharp throughout the entire year. In fact, the reflection of the sun on the surface of the sea is Bolgheri's secret to phenolic ripening of the grapes.
Produced from some 64 hectares (160 acres) of carefully and meticulously tended vineyards, the wines from this estate combine strength and elegance. They are intense, deeply textured and brimming with aromas and flavours with predominant, satisfying fruitiness and silky tannins.
Also Something Classic
A timeless classic is a wine that is dependable, reliable and familiar. It always hits the spot, no surprises here!
Newly Added
New and Exciting Drops