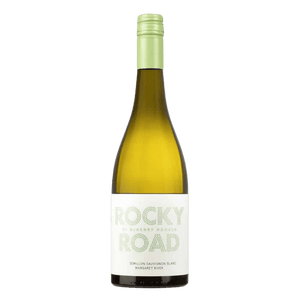 McHenry Hohnen Rocky Road Semillon Sauvignon Blanc 2022
AT FIRST SIP-Grapefruit, snow pea and rock melon. Fresh as anything with lots of fruit.  
AT FIRST SIP-Grapefruit, snow pea and rock melon. Fresh as anything with lots of fruit.  
About This Wine
Rocky Road is a McHenry Hohnen label. The Rocky Road range is a pure expression of the classic varieties that have forged the Margaret River's reputation.
McHenry Hohnen have been growing grapes in the Margaret River wine region since the 1990s. From the start there was a commitment to best practice that nurtured the land while growing unique and regionally specific fruit with strong inner character and personality. These goals reflect the men involved – strong characters with a desire to honour the traditions of centuries of winemakers.
Tagging themselves as 'Sustainable Farmers' their approach was to treat their vineyards organically from the beginning. Certification came later, but for the Sustainable Farmers it was the only way.
Under Australian law, you must be over 18 years to purchase alcohol. By entering the Wine Envy website, you acknowledge that you are over 18 years.
Once your payment has been approved, we will book your delivery in through Sendle via either Couriers Please or FastWay / Aramex, for next available pickup. Please allow 4-5 days for most metro areas and up to 10 days for more remote places, (although delivery may occur sooner than quoted). Please note that wine will only be delivered to persons over 18 years of age. You will receive an email notification once your order has been dispatched.
The smallest wine region in Australia yet responsible for a huge proportion of the country's premium wines. World class Chardonnay and Cabernet Sauvignon are found throughout the region as well as some fantastic new curios.
Also Something Casual
A bit of fun, some satisfaction and definite thirst quenching.
Newly Added
New and Exciting Drops