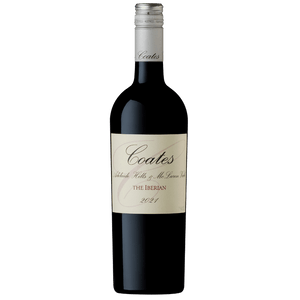 Think Turkish delight, game and roasting meats.
Think Turkish delight, game and roasting meats.
About This Wine
Man of many talents, winemaker Duane Coates gives a nod to old world styles in a pragmatic and transparent manner. Creating varietally driven, wines that are true to the Australian terroir.
The desire to experiment in the Mediterranean red blend territory, but not follow the established GSM/MSG/SGM path, led to some left field thinking about what may constitute a red fruit-centric medium-bodied style. The Iberian brings together seven varieties that are mainstays or blending components with a historical origin on the Iberian Peninsula that covers Spain, Portugal and the Southern Roussillon of France. A thoroughly enjoyable trial and error blending process settled on an assemblage of Touriga Nacional (44%), Tempranillo (14%), Monastrell (11%), Syrah (9%), Carignan (6%), Garnacha (6%), Cinsault (6%) and Malbec (4%).
Under Australian law, you must be over 18 years to purchase alcohol. By entering the Wine Envy website, you acknowledge that you are over 18 years.
Once your payment has been approved, we will book your delivery in through Sendle via either Couriers Please or FastWay / Aramex, for next available pickup. Please allow 4-5 days for most metro areas and up to 10 days for more remote places, (although delivery may occur sooner than quoted). Please note that wine will only be delivered to persons over 18 years of age. You will receive an email notification once your order has been dispatched.
Man of many talents; Duane Coates bases himself in McLaren Vale, though his winery is in the Adelaide Hills, however he sources from all over South Australia. Having spent time in Burgundy, Rhone and Portugal his wines pay homage to the old world styles he has come to love. Still being true to Australia's climate, he has explored which grapes suit his terroir in a pragmatic, transparent way. 
Beautiful fragrant classics, some slightly left of field reds and certain enjoyment make Coates wines a no brainer. 
Duane Coates is, by his own admission, a 'heart over head' winemaker. Inclined to make wine from almost any interesting parcel of fruit made available to him. For Duane, making great wine is not about business decisions; it's about curiosity, passion, and a little bit of folly.
Also An Adventure
Get a bit of strange, a little thrill, a pleasant surprise and some guaranteed satisfaction.
Newly Added
New and Exciting Drops