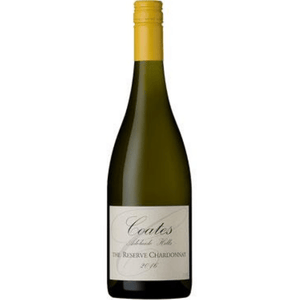 Coates 'The Reserve Chardonnay' 2022 - Adelaide Hills, SA

About This Wine
A wonderful follow up to the 2021, Duane is very happy with the finished result, commenting that it was a slightly warmer vintage but still very long, cool and mild. 

Coates Reserve Chardonnay is sourced from the finest fruit produced from the Christmas Hill vineyard in the Kuitpo subregion of the Adelaide Hills. The vineyard location ensures that the grapes have an elegance of flavour and good natural acidity that we seek to preserve in the finished wine.
The Reserve Chardonnay uses hand-picked fruit from two harvest times; an earlier pick to maintain a taut acid backbone and minerality with a later pick (about 10 days in time difference) to capture subtle tropical fruit and riper stone fruit characters. The winemaking style is traditional with a gentle enclosed bag pressing of the fruit yielding a 525/L tonne extraction. As a small winery, we have gone to the expense of purchasing our own new 3000L Puleo enclosed tank press to provide control over the pressing and oxidation of the white juice during vintage.
We allow the juice to be handled oxidatively prior to transfer to oak to encourage early phenolic drop out during barrel maturation. The Chardonnay juice is a natural yeast fermented with fine solids in new (62%) and second use (38%) barriques from the Nadalie, Saury and Dargaud & Jaegle cooperages then aged on lees without racking for fifteen months. Malo was allowed to proceed, and the wine was matured with minimal battonage. Blended and bottled unfined and unfiltered. Chardonnay is a tight, structured style and will be best from 2022 and drinking well until 2030. 

Under Australian law, you must be over 18 years to purchase alcohol. By entering the Wine Envy website, you acknowledge that you are over 18 years.
Once your payment has been approved, we will book your delivery in through Sendle via either Couriers Please or FastWay / Aramex, for next available pickup. Please allow 4-5 days for most metro areas and up to 10 days for more remote places, (although delivery may occur sooner than quoted). Please note that wine will only be delivered to persons over 18 years of age. You will receive an email notification once your order has been dispatched.
Man of many talents; Duane Coates bases himself in McLaren Vale, though his winery is in the Adelaide Hills, however he sources from all over South Australia. Having spent time in Burgundy, Rhone and Portugal his wines pay homage to the old world styles he has come to love. Still being true to Australia's climate, he has explored which grapes suit his terroir in a pragmatic, transparent way. 
Beautiful fragrant classics, some slightly left of field reds and certain enjoyment make Coates wines a no brainer. 
Duane Coates is, by his own admission, a 'heart over head' winemaker. Inclined to make wine from almost any interesting parcel of fruit made available to him. For Duane, making great wine is not about business decisions; it's about curiosity, passion, and a little bit of folly.
Also Something Classic
A timeless classic is a wine that is dependable, reliable and familiar. It always hits the spot, no surprises here!
Newly Added
New and Exciting Drops