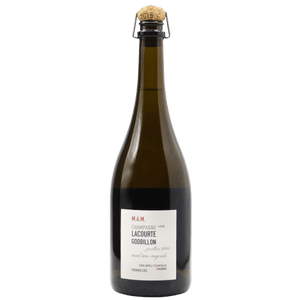 Lacourte-Godbillon Premier Cru Mont Ame-Migerats 2015
Husband and wife team Richard Désvignes and Géraldine Lacourte represent part of Champagne's great future; not complacent on selling on the name of the region alone, this upcoming house is earning repute via a commitment to quality and eye-catching flair via contemporary and striking packaging. The duo took over from Géraldine's father in 2006, with the family name already well established in Champagne circles.
Under Australian law, you must be over 18 years to purchase alcohol. By entering the Wine Envy website, you acknowledge that you are over 18 years.
Once your payment has been approved, we will book your delivery in through Sendle via either Couriers Please or FastWay / Aramex, for next available pickup. Please allow 4-5 days for most metro areas and up to 10 days for more remote places, (although delivery may occur sooner than quoted). Please note that wine will only be delivered to persons over 18 years of age. You will receive an email notification once your order has been dispatched.
Also Something Classic
A timeless classic is a wine that is dependable, reliable and familiar. It always hits the spot, no surprises here!
Newly Added
New and Exciting Drops