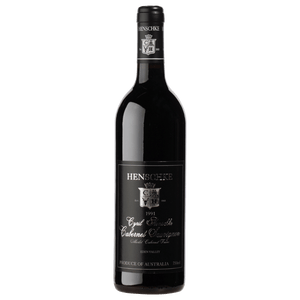 Henschke 'Cyril Henschke' Cabernet Sauvignon 1991
Henschke 'Cyril Henschke' Cabernet Sauvignon 1991
Henschke 'Cyril Henschke' Cabernet Sauvignon 1991
This wine carries the name of Stephen's father, Cyril Henschke (1924-1979), as a tribute to one of Australia's outstanding winemaking pioneers, renowned for old-vine single-vineyard and quality varietal table wines. Cyril planted cabernet sauvignon at the Henschke Eden Valley vineyard in the 1960s. The cabernet sauvignon vines, along with cabernet franc and merlot, are planted on a north facing slope, grown using organic and biodynamic practices. This wine celebrates the incredible beauty that emerges from the vibrant rows of the Eden Valley vineyard, revered for its texture, depth, complexity and fine-grained tannins.
Please note this wine is "Rare & Collectable" and as such no further discounts apply.
Under Australian law, you must be over 18 years to purchase alcohol. By entering the Wine Envy website, you acknowledge that you are over 18 years.
Once your payment has been approved, we will book your delivery in through Sendle via either Couriers Please or FastWay / Aramex, for next available pickup. Please allow 4-5 days for most metro areas and up to 10 days for more remote places, (although delivery may occur sooner than quoted). Please note that wine will only be delivered to persons over 18 years of age. You will receive an email notification once your order has been dispatched.
Newly Added
New and Exciting Drops