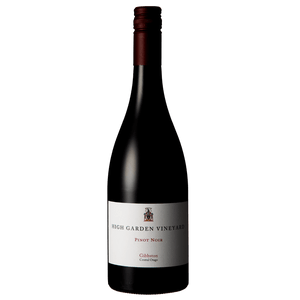 About This Wine

The High Garden vineyard was planted 20 years ago and peers down the slope at its neighbours in the narrow and stunning Gibbston Valley. It is the highest vineyard in the valley, an important factor not for cooler climates but for the opposite; sunlight. Gibbston is notorious for making vignerons cry one vintage and rejoice the next. It is a narrow valley flanked by towering mountain ridges on both sides and frost is a persistent pest. 
High Garden's elevation on the mountain slop allows longer sunlight hours, ensuring just enough ripeness for Pinot Noir to perform its best here. This extended growing season and exceptionally low yields (4 tonnes/hectare) really produce some beautiful fruit.
Made by Valli's Jen Parr, this wine enjoyed a long slow primary fermentation with wild yeasts before undergoing malolactic fermentation in French oak barriques. This occurs naturally over winter and into spring. No enzymes were used and whole bunched were 20%. This Pinot Noir is bottle unfined and unfiltered.

Under Australian law, you must be over 18 years to purchase alcohol. By entering the Wine Envy website, you acknowledge that you are over 18 years.
Once your payment has been approved, we will book your delivery in through Sendle via either Couriers Please or FastWay / Aramex, for next available pickup. Please allow 4-5 days for most metro areas and up to 10 days for more remote places, (although delivery may occur sooner than quoted). Please note that wine will only be delivered to persons over 18 years of age. You will receive an email notification once your order has been dispatched.
It's up for debate between Patagonia and Central Otago as the most southern wine region in the world. Either way, that gives you an idea of just how far south it is. This means short winter days and long summer days, all with dramatic shifts in temperatures often within mere hours. 
Central Otago was pioneered by a handful of producers, in various corners of the region; Rippon in Wanaka, Black Ridge in Earnscleugh/Alexandra,  and Gibbston Valley wines and Chard Farm in Gibbston Valley. The early 80s marked the beginning of commercial winemaking in the region with this dedicated quartet. Taking their advice from local farmers and stone fruit growers. In a blink of an eye in wine terms, Pinot Noir from Central Otago quickly emerged on the world stage with an impressive debut. The region shot to fame in Pinot circles for the quintessential NZ 'pungency', expressive and sometimes enormous flavours. The 2000's marked the coming of age for the region as winemakers and viticulturists began to refine their last 20-30 years experience with this semi desert region. 
The Sub-regions of Central Otago are listed from south to north are; Earnscleugh/Alexandra, Gibbston Valley, Bannockburn, Lowburn, Bendigo, Wanaka and Waitaki (although in North Otago, the region is so small it's best to consider it alongside Central Otago)
Today, Pinot Noir is barely over 5% of New Zealand's wine growing acreage, and most of it is (upwards of 80%) is still planted to Pinot Noir. Riesling is the dark horse here as well as some extra lithe yet lush Chardonnay. Pinot Noir here under the best producers have reached a stage of elegant power, singing natural acidity and perfume yet with that oh so satiating 'Otago' suppleness. 
Our favourite producers from the area are;  Akitu, Alpine Wine Co., Felton Road, Burn Cottage, Mount Edward, Prophets Rock, Rippon and Valli.
Also Something Classic
A timeless classic is a wine that is dependable, reliable and familiar. It always hits the spot, no surprises here!
Newly Added
New and Exciting Drops