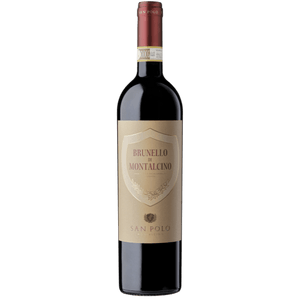 $110.00 – $594.00
$110 or $99 per bottle when you buy 6
$110 or $99 per bottle when you buy 6
The San Polo vineyards were first planted in 1990, at one of the highest points on Montalcino's southern slope. Elevation is key here: situated at 400-450 metres above sea level, the vines are well-placed for creating wines that typically exhibit more elegant, red-fruited characters and lower alcohol levels, while still retaining the tannic structure and unmistakable character of textbook Brunello di Montalcino. That the region's flagship producer (Biondi Santi) is a mere two kilometres back towards town gives you an idea of just how special this site is.
San Polo represents the Allegrini family's second foray into Tuscan winegrowing and has gone from strength to strength since Marilisa Allegrini took over the estate in 2007. In 2013, it became the first Tuscan winery – and just the second in the world – to receive the CasaClimate sustainability certification, before commencing organic management in 2014. The estate became certified organic in 2017.
San Polo's altitude paid dividends in 2017, a year of extremes. This Brunello di Montalcino exhibits the site's hallmark characteristics of violets, red berries and earth, underpinned by coffee notes and an exceptionally long finish. Beautifully ripe tannins provide a glimpse into just how long this wine will live.
Under Australian law, you must be over 18 years to purchase alcohol. By entering the Wine Envy website, you acknowledge that you are over 18 years.
Once your payment has been approved, we will book your delivery in through Sendle via either Couriers Please or FastWay / Aramex, for next available pickup. Please allow 4-5 days for most metro areas and up to 10 days for more remote places, (although delivery may occur sooner than quoted). Please note that wine will only be delivered to persons over 18 years of age. You will receive an email notification once your order has been dispatched.
San Polo was founded in 1990 and welcomed the Allegrini family in 2007. Based on a phenomenal site on the southern slope of Montalcino, the addition of the Allegrini's at the helm, the estate has soared. The Allegrini's have brought welcome innovation and investment to the area and estate. Their modern, cutting edge winery allows winemaker Riccardo Fratton to focus on expressing their terroir with utmost honesty and quality.
San Polo is the first winery in Tuscany and the second in the world to have earned the Quality Seal, being awarded the prestigious CasaClima Wine Certification. This certification means the winery has been declared sustainable from all perspectives: ecological, environmental and economic. 
Also Something Classic
A timeless classic is a wine that is dependable, reliable and familiar. It always hits the spot, no surprises here!
Newly Added
New and Exciting Drops